Are you one of the many Toyota owners who have been told by the dealer "a transmission service is not required on your vehicle", or "the transmission is sealed for life"? Keep reading and I will explain why your Toyota 6 speed transmission DOES require a regular transmission service.
Why?
We explained in our article on the A750 transmissions here, that by not replacing your transmission fluid regularly, premature damage will be caused to the internal components of the transmission. Every time the fluid gets hot or overheats, the less effective it is in providing efficient lubrication and cooling through the transmission. A transmission service every 40,000 km will protect your transmission from premature failure and will help avoid costly repair bills when it fails.
At elevated operating temperatures, ATF oxidizes, turns brown and takes on a smell like burnt toast. As heat destroys the fluid's lubricating qualities and friction characteristics, varnish begins to form on internal parts (such as the valve body). This interferes with the operation of the transmission. If the temperature gets above 125 degrees C., rubber seals begin to harden, leading to leaks and pressure losses. At higher temperatures the transmission begins to slip, aggravating overheating even more. Eventually the clutches burn out and the transmission calls it quits.
Here is a picture of the transmission fluid from an FJ Cruiser after 47,000 km, next to brand new Toyota WS fluid.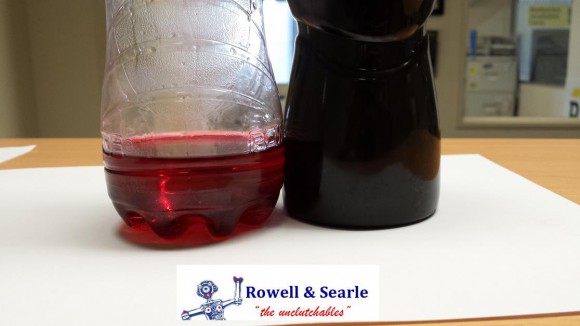 What transmission is in my vehicle?
The Toyota 200 series Landcruiser's use the AB60 transmission, while the Prado's and the Hilux's use the AC60 transmission. They are very similar transmissions; however the AB60 transmission is a heavy duty transmission and the AC60 is a light to medium duty transmission. This transmission can also be found in the Isuzu D-Max.
We are starting to see these vehicle's coming in to our workshop with complaints of overheating or running hot. This is more prevalent in the Prado and Hilux with the light/medium duty transmission when they are being used for towing.
Recommendations
The best thing you can do if you own a Toyota with a 6 speed transmission is:
Make sure you are servicing you transmission every 40,000 km – sooner if you are regularly towing heavy loads or doing off-road work,
Install a Scan Gauge II to the vehicle and program it to monitor your transmission temperatures (more information here), and
Install an external transmission cooler. The Land cruiser's have a transmission cooler installed at factory, however common feedback is they are not sufficient at keeping the transmission running cool. We can install an additional external transmission cooler to your vehicle and run the two in-series to ensure you have the most effective cooling. The Prado and Hilux do not have a cooler installed at factory, therefore we highly recommend having an external transmission cooler installed.
If you would like to discuss your vehicle specifically and for more detailed information – call us on (08) 8221 6694 now or email service@rowellandsearle.com.au.
To read feedback from vehicle owners on this transmission, I recommend reading the Prado Point forum chat HERE.