How do I Maintain my Toyota Prado or Land Cruiser Transmission? Does it need a Transmission Service?
The Prado LandCruiser transmissions are one of the most common vehicles we service and maintain for our customers. The 5 speed is fitted with the A750F transmission and the later models have the 6 speed AB60F. We recommend both the Prado and LandCruiser transmissions should be serviced every 40,000 km or 24 months under normal driving conditions. Under more severe driving conditions, such as towing and off road driving, the service interval should be reduced.
Although Toyota say that this transmission is "sealed for life" and the oil doesn't require replacing, we certainly recommend the transmission fluid is changed regularly.
Here is an example why:
Below is an image of the transmission fluid which came out of an FJ Cruiser at its first transmission service at 47,000 km. The FJ Cruisers are also fitted with the 5 speed A750F transmission. The oil on the right hand side is a sample of the old oil which came out of the transmission; the oil on the left is a new sample of Toyota WS transmission oil (the specified oil for this transmission). As you can see the old fluid is quite dark and discoloured.
Transmission oil deteriorates under heat. The hotter it gets, the less effective it is in providing efficient lubrication and cooling properties through the transmission. By not replacing the transmission fluid regularly, premature damage will be caused to the internal components of the transmission every time they overheat. A simple transmission service every 40,000km will protect your transmission from premature failure and will help you avoid having to pay out expensive repair bills when it fails.
When replacing the fluid on your Prado LandCruiser transmission , a full transmission service should be carried out. The pan should be removed and an inspection should be carried out of the transmission pan, fluid and the filter to determine the condition of the transmission. Metal filings in the pan or on the pan magnet are signs of internal wear and may give prior warning to potential problems in the transmission. The external filter should be replaced if it is excessively dirty.
As the Prados and LandCruisers do not have a dipstick, it is difficult for people to check their transmission oil level and condition at home. If you would like one of our experienced mechanics to check your transmission oil for you, call us and schedule an appointment.
Do you own a 200 Series Land Cruiser, a Prado or a Hilux with the 6 speed transmission? Read our 6 speed specific article here with our recommendations for this transmission.
Transmission Oil Cooler
If you are towing with your LandCruiser or Prado, or use it for off road driving, we would highly recommend fitting an external transmission oil cooler (if one is not already fitted from the factory).
Keeping your transmission cool is the most effective (and easiest) way to dramatically improve the lifespan of your transmission.
When fitting external transmission coolers, we fit them in series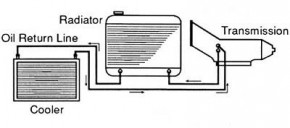 with your existing heat exchanger. When fitted correctly, the external transmission cooler uses outside air for heat transfer; rather than the already over worked heat exchanger. This provides better and more efficient cooling to your transmission.
Click Here if you would like further information on having an external transmission cooler fitted to your LandCruiser or Prado or call our friendly staff for a chat!
Scan Gauge II
We also highly recommend to all of our avid Toyota 4×4 drivers the Scan Gauge II which we keep in stock in Adelaide. The scan gauge simply connects to your OBD port and has loads of features which includes the ability to read transmission temperature (if compatible with your vehicle), monitor fuel consumption and read/clear any fault codes. For more information on the scan gauge click here.