Monitor your vehicle's most vital systems in real time with the ScanGauge 2!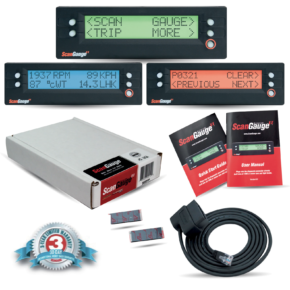 ScanGauge II can help you monitor your vehicle's most vital systems and provides the kind of real-time information you've been missing. Rowell & Searle now stock the ScanGauge II ODB gauge in Adelaide and can fit and programme to your vehicle for you. If you are towing or do a lot of off road driving, we cannot recommend the ScanGauge highly enough. It is a great way to monitor your automatic transmission temperature to make sure you are not overheating and doing damage to your transmission.
How it works
The ScanGauge II is designed to plug directly into the OBD diagnostics connector under the dash of 1996 vehicles, new cars and light trucks. Some vehicles built prior to 1996 may also be compatible with ScanGauge products.
The unit has automatic protocol determination and automatically determines the protocol your vehicle uses and connects. Included features such as more than 15 built-in digital gauges and an easy-to-use Scan Tool. The unit displays 4 gauges at a time, so you can monitor the current operating conditions of your vehicle on the go — all in an ultra compact design that installs in minutes.
Compatible with all OBDII protocols
More than 15 Built-in Digital Gauges
Check & Clear Trouble Codes
X-Gauge programmable gauge system
Performance Monitor
Five built-in trip computers keep track of everything from fuel cost to distance traveled and everything in between
Simple on-screen operation
Easily move from vehicle to vehicle
No Batteries Required
Back light for night time use
Improve your fuel economy
ScanGauge II provides real-time data about your vehicle's instant and average fuel economy, fuel used, cost of fuel used for each trip, cost per KM's, litres per hour and more!
There are many ways to reduce your fuel usage and increase fuel economy. Real time feedback like what the ScanGauge provides is one of the most effective. With five built-in trip computers, the ScanGauge can keep track of everything from fuel cost to distance travelled and everything in between. Data is stored on the ScanGauge and is retained even when the power is disconnected. The ScanGauge II starts automatically and information is available anytime during the trip.
Exclusive Programmable Gauge System
In addition to the standard set of gauges, the ScanGaugeII features the exclusive X-GAUGE™ programmable gauge system; you can monitor parameters such as automatic transmission temperature, trip data and fuel economy information. X-Gauge™ gives you the ability to customise your ScanGaugeII by adding additional vehicle specific digital gauges.
Easy to install; No tools required
Installs in just minutes without the need for tools; Simply plug the ScanGauge into the diagnostic connector under the dash.
The installation is quick and hassle-free and you can do-it-yourself, as the unit comes pre-programmed, ready to go!
Book an appointment with one of our professionals today!
Call us on 8221 6694 to check ATF compatibility with your vehicle or for further information on the ScanGauge.