Are you having overheating issues with your Ford PX Ranger, Ford Everest or Mazda BT50 6 speed auto? Or are you planning on using it for towing or off-road driving soon? We have some strong recommendations for your vehicle:
We are seeing more of these transmissions fail than any other transmission on the road. Heat is the biggest killer and towing is the main cause of excessive heat. From factory these transmissions don't open up the cooling circuit until the temperature reaches approx 100 degrees, which gives you very little room for naturally increasing heat in high stress environments as we recommend no more than 125 degrees. The main experience that we are having with these vehicles is that they are operating at high temperatures resulting in damage to the torque converter inside the transmission.
Recommendation 1
Solid, Reliable and Cool
The most efficient way to reduce heat is to fit an external transmission cooler. We have found the only way to keep this transmission cool is to fit a specially designed External Transmission Oil Cooler Kit to keep the Transmission Temperature of your vehicle under control. The cooler assembly comes with a Custom Heavy Duty Steel Bracket specifically built to withstand corrugations and tough conditions. The brackets hold two extra large coolers back to back. There are cheaper options available but they don't work as effectively. The kit is designed specifically for the Ford Ranger PX Series 1 and 2 and the Mazda BT50. It also bypasses the heat exchanger on the side of the transmission; which is known to allow coolant into the transmission if the internals break. This would be very bad news for your auto. Fitting a cooler to these vehicles is mandatory if you want the transmission to last.
The External Transmission Oil Cooler kit for the Ford Ranger / Mazda BT50 6 Speed is a full kit that includes: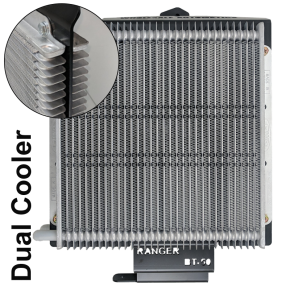 Custom Designed Laser Cut Steel Cooler Brackets
2 x Extra Large External Transmission Crossflow Oil Coolers – Back to Back
Replacement Transmission Cooler Unions
High Temp Cooler Hose and Fittings
Bypass Fittings to Prevent Coolant Contamination
We keep these heavy duty dual cooler kits on the shelf at all times and can ship interstate if required. Please call us on (08) 8221 6694 or email parts@rowellandsearle.com.au to purchase.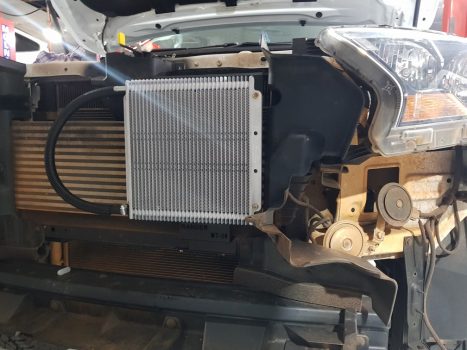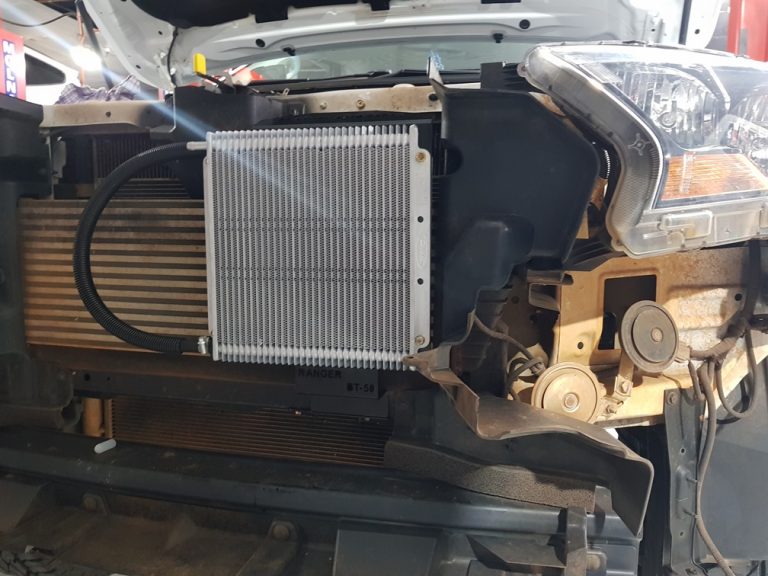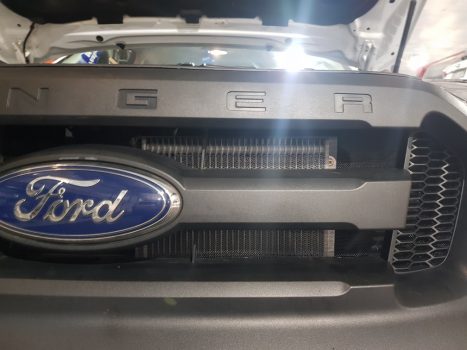 Recommendation 2
Your transmission should be serviced every 40,000 km to the Australian Standard by removing the transmission pan. The oil runs hotter than your engine oil & deteriorates. The statements going around about transmissions being 'sealed for life' are not true – the life won't be very long if you do not service them regularly. The 6R80 transmissions require special 6 speed low viscosity fluid which we keep in stock and carry all the required parts (pan gasket & filter). By servicing your transmission regularly, you will ensure the oil maintains it's heat dissipating properties and keeps everything running smoothly internally. We will also be able to warn you if the transmission or torque converter are starting to display signs of wear.
Recommendation 3
The 6R80 transmission is designed for the alpine regions of USA and Europe and very quickly raises the internal temperature to 100 degrees before allowing the oil to flow through to the factory cooler. This valve body design enables the transmission to warm up quickly in cold climates. In Australia, we have the opposite problem and need to keep the transmission oil cool. When carrying out a transmission service, we can carry out a modification to this valve to allow it to open much earlier. Our modification enables oil to flow through the cooler at all times which will assist in preventing overheating. Call us to chat further about whether this modification would be appropriate for your vehicle.
Recommendation 4
We also highly recommend installing a ScanGauge II ODB Gauge to your vehicle which plugs into your OBD port and can read and display your automatic transmission operating temperature. It is a much cheaper option than installing a temperature gauge and has a lot more functions which includes reading and clearing fault codes. For further information read our article here.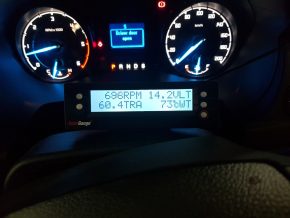 All of these recommendations do not need to be carried out at the same time and can be broken down into smaller steps. If you do overheat your transmission, you can be up for approx $8000 in repairs to your transmission. Therefore, the more you can do to prevent overheating, the better off you will be in the long run. You will also reduce the chance of breaking down on holidays. We have the answers to what is a common problem with this vehicle. If your transmission has already failed – we have heavy duty upgrades we can carry out to your transmission to rectify their weakness' and build it to last!
For further information on this vehicle and to discuss how we can address the issues you are having with your vehicle Call us on (08) 8221 6694, send us an email: service@rowellandsearle.com.au!