Who Would You Trust To Recondition or Rebuild Your Transmission?
If you are going to trust someone with your hard earned cash to recondition or rebuild your transmission, it would make sense to do your due diligence. Our reputation speaks for itself.
We have been reconditioning transmissions since 1945 and offer our customers a no argument national warranty. We always use parts that are equal to or exceed the manufacturer's original specification where ever possible. When reconditioning your transmission we always investigate why the unit has failed and advise you on ways to lessen the chance of repeated failure.
At Rowell & Searle we always take the time to find out what your needs are and provide the most suitable solution for you. We believe this is the key to keeping our customers happy for life.
What's involved in reconditioning my transmission?
For a recondition or a rebuild, the first step involves removing the transmission from your vehicle, dismantling, washing and inspecting all of the components.
This is followed by identifying and replacing any failed, faulty or worn parts. The transmission is then reassembled replacing all internal and external seals, bearings and friction components. The torque converter is cut open, inspected and reconditioned. The valve body is inspected for wear and either re calibrated with upgraded valves, re-sleeved or replaced. Repairing or replacing the valve body is vitally important to ensure the transmission will have a long life after the rebuild. We also test and replace any solenoids that are part of the valve body or mechatronic assembly.
In most cases of reconditioning the transmission, we carry out durability upgrades that available in the form of design changes or modifications. We can also offer heavy duty upgrades on certain types of transmission to extend the life of the transmission.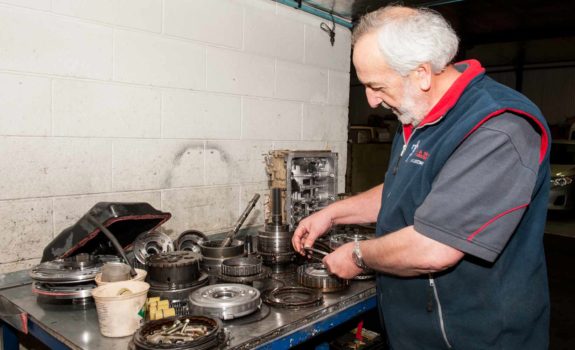 Why recondition my transmission? Are there alternatives?
You will get peace of mind knowing your transmission has been restored to an as new performance and reliability with a solid warranty. Where the damage is reasonably contained and the unit kilometers are not too high, a part repair may be possible and could be more economical in some cases. Replacement with a second hand transmission from an unknown source is usually a last resort as they tend to come with limited and vague warranty conditions, unknown history, unpredictable life expectancy and can be a high risk decision.
What will happen if I don't recondition or fix my transmission?
If early symptoms are ignored, the cost of repair will only escalate. Further damage may be caused not only inside your transmission, but could result in other parts of your vehicle becoming damaged. Vehicle reliability, fuel economy, drivability and resale value will all be adversely affected. In extreme cases, transmissions have been made unrepairable due to negligence. Your vehicle may stop suddenly and completely while being driven and would require a tow recovery.
We have been rebuilding transmissions since 1945. When transmission problems occur, Rowell & Searle is the one you can rely on to give you honest diagnosis, expert advice and excellent workmanship.