One of the most common questions we get asked during the Summer months is "do I need a transmission cooler for my car"? The short answer – YES!! We could not recommend them highly enough for cooler running, prolonged transmission life, reduced costs and better fuel economy.
Did you Know??
For every 12 degrees C of heat reduced, you double the life of your transmission fluid. For every 24 degrees C of heat reduced, you double the life of your transmission!
1. Choosing a cooler – which is better?
When it comes to choosing between the various coolers in the market, cooler construction plays an important part in today's modern installations. Factors in deciding which style of cooler to use include oil flow capacity; low pressure drop; available size; minimum air flow disruption and hose end fitting type and size. A low pressure drop plate and fin type cooler is 30% more efficient than a tube and fin type cooler because the cooling circuit operates at a regulated low pressure.
Plate and Fin Coolers – The plate and fin cooler can be distinguished by the parallel plates that run horizontally, and looks just like a mini radiator. This type of transmission cooler is more efficient than the tube and fin type, mainly because the larger surface area allows for more fluid to contact the cooling surface. Fluid is forced through each row of smaller plates that help to cool the fluid faster and more effectively.
Tube and Fin Coolers – The tube and fin cooler can be distinguished by the tube that weaves throughout the transmission cooler and the turbulators that surround it. The tube is responsible for transferring the fluid around while the fins attached on the outside help to absorb the heat. Tube and fin coolers are often the least efficient type of cooler.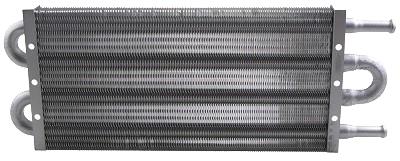 2. Does size matter?
When it comes to selecting the right size cooler for the vehicle, the rule of thumb is to select the largest size you can comfortably fit in the space available. We are yet to hear of any one over cooling their automatic transmission! Correct hose sizing is also critical. Vehicle specific kits are becoming more popular with specific laser cut brackets.
3. Fitting the cooler
When deciding if you should install the cooler in series, or to fully bypass the radiator, consider the following points: will the vehicle be towing a light or a heavy load, will the vehicle be used for off-roading, or has the vehicle been performance modified? Fully bypassing a failed heat exchanger is often more cost effective and eliminates the potential for any future coolant and oil contamination. Consideration should also be given to the climate, with vehicles operating in hotter conditions leading to extra heat load being placed on the cooling system. Our technicians at Rowell & Searle Auto will be able to advise on which fitting option will be the most suitable for your vehicle.
4. After installation
After installation, an important tip is to always remember to top up the transmission fluid after installing an oil cooler. Normally around one litre will suffice but be sure to follow the recommended fill procedure and to use the correct Automatic Transmission Fluid for the vehicle. We also highly recommend you continue to regularly service your transmission every 20,000km if using mineral based oil or 40,000km if using synthetic oil. If you are towing regularly or doing heavy towing, these intervals should be reduced.
For the best information specific to your vehicle, call us on (08) 8221 6694. At Rowell & Searle Auto we can install transmission coolers to your vehicle or supply you with the kit if you can't make it into our Workshop. Some of the most common vehicles we are currently fitting coolers to are: Mazda BT50, Ford Ranger & Territory, Isuzu DMAX & MUX, Toyota Hilux, FJ Cruiser, & Prado, Holden Colorado, Range Rover, Jeep Grand Cherokee & Hyundai Santa Fe.