Pre-purchase inspections are a must when buying a second hand car from a private seller OR a used car dealer. Why?? Simple – it can save you buying a car that may need hundreds of $$ worth of repairs that outweigh the value of the car.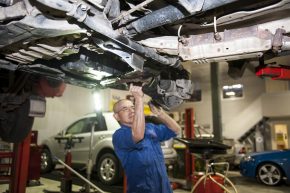 Every time we would like to buy something, we go through a long process that involves researching, getting feedback or testing the product before we make our final decision. We always want to make sure that we get the best quality for our money's worth. It isn't any different when buying a used car. If anything, researching and testing are more important before you proceed with a second hand vehicle purchase.
Make sure you know all about the car you are buying!
What is  a pre-purchase inspection?
Pre-purchase inspections are done by licensed mechanics or auto technicians. It usually involves visual inspections, system checks, engine and mechanical checks and a test drive. They will check for unusual noises or movements in the car and check if there are any broken or worn out components. The mechanics will perform a detailed inspection. They will thoroughly examine and evaluate the vehicle to confirm that it's in good condition. AND can provide photos if required!
Do I really need to do it?
First of all, it's your right as a buyer to do an inspection first on anything you wish to purchase, regardless if you are purchasing from a used car yard (they might not know the full history of the vehicle) or from a private seller. Pre-purchase inspections will provide you with an accurate evaluation before making a huge purchase decision. When it comes to vehicles, it is necessary that you know its actual condition so you can be assured that you will be driving safely. Knowing early signs of damages will also help in making sure you don't end up spending more in repairs than the actual cost of the car. You need to have that guarantee that you're paying the right price for the vehicle you're buying.
A pre-purchase inspection is all about assurance. It does come at an extra cost but it will be very beneficial in the long run.
Should you need a pre-purchase inspection, Rowell & Searle Auto can do that for you. We have skilled mechanics that can examine every inch of your car, so you're sure we've got you covered.
And by the way, it's only $150 for ALL vehicles. 
For any inquiries about pre-purchase inspections or vehicle repairs, just give us a call or book online here.