Monitor your vehicle's most vital systems in real time with the ScanGauge II!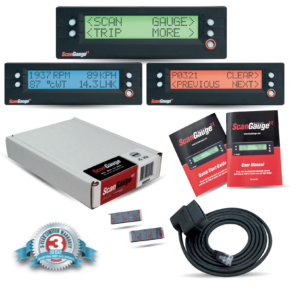 We now stock the ScanGauge II ODB gauge and can fit and programme to your vehicle for you. If you are towing or do a lot of off road driving, we cannot recommend the ScanGauge highly enough. It is a great way to monitor your automatic transmission temperature to make sure you are not overheating and doing damage to your transmission.
The ScanGaugeII can help you monitor your vehicle's most vital systems and provide the kind of real-time information you've been missing. Features include more than 15 built-in digital gauges, 5 sets of trip data and an easy-to-use Scan Tool that shows both set and pending trouble codes — all in an ultra compact design. The gauge screen allows you to select and display 4 gauges at a time, so you can monitor the current operating conditions of your vehicle in real-time.
Compatible with all OBDII protocols
More than 15 Built-in Digital Gauges
Check & Clear Trouble Codes
X-Gauge programmable gauge system
Performance Monitor
Five built-in trip computers keep track of everything from fuel cost to distance traveled and everything in between
Simple on-screen operation
Easily move from vehicle to vehicle
No Batteries Required
Back light for night time use
Exclusive Programmable Gauge System
In addition to the standard set of gauges, the ScanGaugeII features the exclusive X-GAUGE™ programmable gauge system; you can monitor parameters such as automatic transmission temperature, trip data and fuel economy information. X-Gauge™ gives you the ability to customise your ScanGaugeII by adding additional vehicle specific digital gauges.
Call us on 8221 6694 to check ATF compatibility with your vehicle or for further information on the ScanGauge.
For further online information click here.