Are you towing or doing off-road driving with your Ford PX Ranger or Mazda BT50 6 speed auto? Bring down the transmission operating temperature to a reasonable level by having a External Transmission Cooler Kit fitted.
The experience that we are having with these vehicles are that they are operating at high temperatures resulting in damage to the torque converter inside the transmission. We recommend all owners of the Ranger or BT50 fit an external transmission cooler to prevent overheating your transmission and causing fatal internal damage.
Solid, Reliable and Cool
Rowell & Searle Auto can install a specially designed External Transmission Oil Cooler Kit to keep the Transmisson Temperature of your vehicle under control. The kit is designed specifically for the Ford Ranger PX Series 1 and 2 and the Mazda BT50. It bypasses the heat exchanger on the side of the transmission; which is known to allow coolant into the transmission if the internals break. This would be very bad news for your auto. The other problem is from factory the auto is kept at a constant high temperature – around 100 degrees. This allows very little room for natural heating in high stress environments (such as towing, stop-start driving, off-road driving etc) as we recommend your transmission gets to no more than 125 degrees.
Fitting an External Transmission Cooler Kit will allow the temperature of the transmission to come down to more normal operating temperature ensuring a longer life of your oil, seals and better driving experience.
The External Transmission Oil Cooler kit for the Ford Ranger / Mazda BT50 6 Speed is a full kit that includes: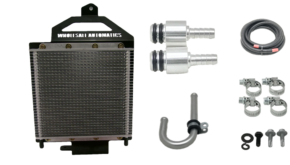 Custom Designed Laser Cut Steel Cooler Brackets
External Transmission Crossflow Oil Cooler
Replacement Transmission Cooler Unions
High Temp Cooler Hose and Fittings
Bypass Fittings to Prevent Coolant Contamination
We also recommend installing a ScanGauge II ODB Gauge to your vehicle which can read and display your automatic transmission operating temperature. For further information read our article here.
Call us on 8221 6694 for a further chat about your vehicle specifically!